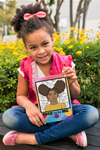 Free to be Me Coloring Book
Shipping calculated at checkout.
"Free to be Me" is the perfect interactive coloring book for our young Black Queens. Each page is full of Black Girl Magic that will ensure our Black girls feel BEAUTIFUL! Positive affirmation activities are included. If she needs help with finer details, this is the perfect opportunity for you to spend time together to assist her. This coloring book is suitable for ages 5-14; however, younger girls can also complete this book with your assistance.
Colored pencils are recommended, but crayons are fine as well. NO MARKERS.
ONLY available on Amazon