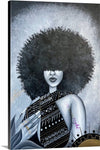 Legendary Onyx Canvas Print
Shipping calculated at checkout.
We don't appreciate bad vibes around here. Move along.
This beautiful Black Queen gives shades of protection against negative energy to keep the senses sharpened. Onyx is a stone of protection, fortune, decisiveness, and strength. She is Legendary. 
This beauty is on a gallery-wrapped canvas print with hanging attachments.