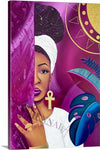 Ethereal Gaze Canvas Print
Shipping calculated at checkout.
If just for one moment, you could see your beauty through my eyes.
"Ethereal" means delicate beauty. She's exploring the depths of her lover's soul, as well as her own. She's able to penetrate the veil of reality and see deep beyond the surface. This Queen's seductive gaze is captivating.  Her locs tell her story...her journey of self love and tenderness that she gives selflessly to others. Her crown is full. She is the perfect conversation piece to bless your home.
She is gracing a 24x36 gallery wrapped canvas with hanging attachments.
24x36 w/ embellishments option includes: gold leaf, paint strokes, and texture.
**Please allow up to 10 business days for processing and shipping